Leddar Sight LiDAR sensor
The Leddar Sight is based on the Leddar M16 2D Flash LiDAR sensor with the addition of a weatherproof and dust-resistant casing (IP67/ IP69 rated). Tested to withstand shock and vibration, the casing allows the Leddar Sight to meet the most demanding environments for commercial and industrial applications. Combining 16 independent active detection elements with a robust and reliable solid-state LiDAR the Leddar Sight is a durable sensor with a high Mean Time Before Failure (MTBF).
The Leddar Sight is a robust LiDAR sensor at a more affordable price point than mechanical LiDAR sensors.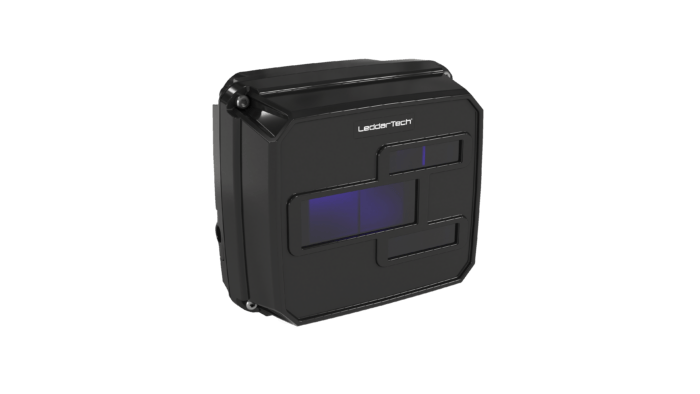 The Leddar Sight is CE marked to provide assurance that it meets required European legislation.
Technical specification
100% solid-state design for durability
IP67/IP69 dust ingress, water immersion and pressurised water systems tested
High Mean Time Before Failure (MTBF): Up to 400,000 hours
Wide operating temperature range: -40ºC to 65ºC
Various beam options for optimised Field of View (FoV)
Range: Up to 165m
Anti-corrosion design
Low power consumption (4W)
Rapid data acquisition time (up to 100Hz)
Class 1 eye safe laser 905nm
Unaffected by night and day light conditions
Dimensions: 92mm x 112mm x 91mm
Weight: 182 – 255g
Starter kit includes: Cable, power supply and USB cable
Recommended applications
Industrial and commercial vehicles
Autonomous shuttles
Intelligent Transport Systems (ITS)
Collision avoidance
Blind spot coverage
Navigation redundancy
Pedestrian detection
Traffic data gathering
Perimeter protection/ security
Vehicle profiling
Smart city data
Velocity measurement
Price indication £
(Relative to range of scanners available from Mapix technologies)
Downloads and media
Leddar Sight specification sheet