Leddar IS16 LiDAR sensor
Designed for the industrial market, this robust multi-segment flash LiDAR sensor with an IP67 water resistant enclosure, is reliable even in the harshest conditions. The 16 sector solid-state system with no moving parts makes it ideal for inside and outside use. Able to detect, locate and measure a wide range of objects with distance and angular positioning for fast, continuous, accurate analysis.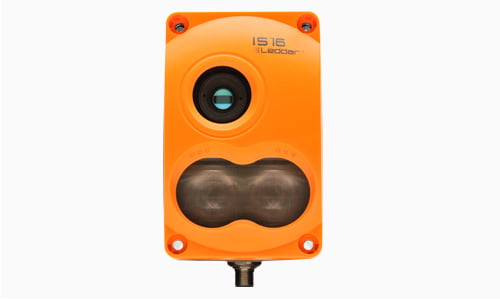 The LeddarTech IS16 is CE marked to provide assurance that it meets required European legislation.
Technical specification
Solid state flash LiDAR sensor
Range: 0 to 50m
Field of View: 45° Horizontal
16 independent detection segments
IP67 water-resistant enclosure
48 degree beam for Field of View
Data acquisition time up to 50Hz
Low power consumption
Class 1 eye safe laser 940nm
Dimensions: 136 mm x 86 mm x 70 mm
Weight: 430g
Presence detection mode
IS16 software – Presence Detection Mode PNP/NPN.
Define the perimeter of the sensor's surrounding as a detection zone
Near and far limits easily set up to define zones
Deactivate unwanted segments
Raw measurement mode
Log all measurements from all segments in real time
Distance of detected object, segment detected and intensity of measurement – how much light reflected
Optional control panel
LCD display with 4 buttons to reconfigure or monitor
Recommended applications
Intelligent Transport Systems (ITS)
Vehicle detection
Traffic data
Speed measurement
Collision avoidance
Price indication £
(Relative to range of scanners available from Mapix technologies)
Downloads and media