Mapix grows portfolio of LiDAR sensors with LeddarTech
Posted on December 11, 2019 in Blog, Events, News
Mapix technologies has been appointed as the official distributor of LeddarTech LiDAR sensors for the UK, Ireland, Belgium, Luxembourg and the Netherlands. The partnership with LeddarTech has been carefully selected to compliment Mapix technologies existing range of Velodyne LiDAR scanners.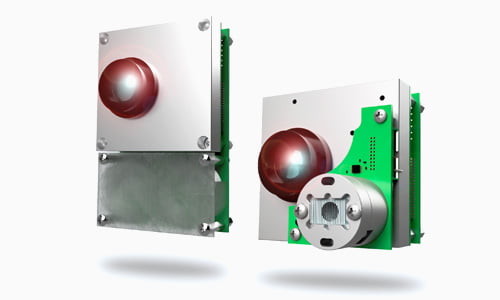 Solid state flash LiDAR
LeddarTech's innovative scanners incorporate solid state flash LiDAR. This uses an illuminated pulse from a light source rather than mechanical revolving lasers. With no moving parts the sensors are robust, compact and cost effective. LeddarTech have the capacity to produce the large volumes of automotive grade LiDAR. This meets the automotive industry's high quality standards and specific cost-performance ratios. Utilising independent detection segments within the illuminated field of view means there are no dead zones. Therefore ensuring a high probability that even the smallest objects are detected.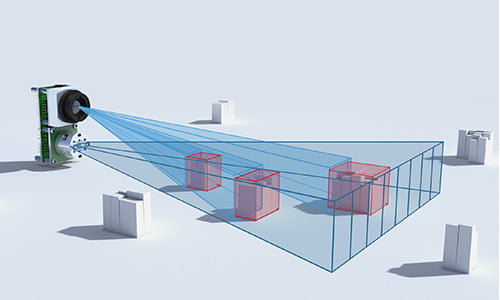 Eight detection segments on the Leddar Vu8
Compact and cost effective
Gert Riemersma, founder and CTO of Mapix technologies explains, "Many of our customers are looking for both LeddarTech and Velodyne LiDAR scanners. For many applications they can work well together. For example with an autonomous shuttle, the primary long distance LiDAR scanner mounted on the roof may create some blind spots close to the vehicle. A number of cost effective LeddarTech LiDAR sensors are able to detect objects such as pedestrians near to the vehicle. This improves safety."
Wide range of applications
Emma Thomas, Mapix technologies' Strategic Director added, "LeddarTech compliments our existing range of Velodyne scanners. As LiDAR technology and the industry is evolving fast, it is important we increase our portfolio to meet our customers specific requirements. LeddarTech has a wide range of applications where close range object detection and avoidance is required. Such applications include autonomous vehicles including shuttles, robotaxis, commercial delivery vehicles. Also traffic and pedestrian monitoring along with perimeter monitoring for security and robotics. We are also looking forward to increasing the range of LeddarTech sensors we offer in 2020."
LeddarTech used at Grampian Transport Museum
The team at Mapix technologies installed a LeddarTech M16 LiDAR scanner as part of an exhibition at the Grampian Transport Museum, near Aberdeen, Scotland. The interactive display demonstrates how an autonomous car detects approaching pedestrians. So it can then decide on the safest course of action to avoid a collision. Read more about this project here.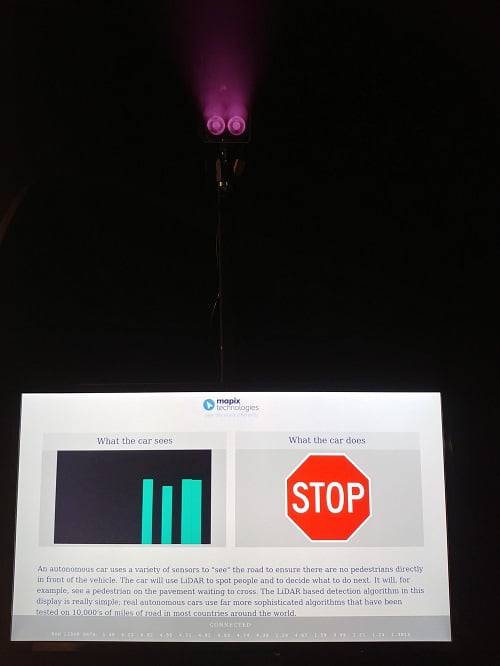 Experienced LiDAR providers
LeddarTech solid state flash LiDAR sensors work in any lighting conditions, night and day. Both Mapix technologies and LeddarTech have over ten years experience with LiDAR. In addition, Mapix technologies offer excellent customer service and effective management of the importing of goods across borders and customs processes.
For more information about the range of LeddarTech LiDAR sensors available from Mapix technologies, please contact us.
The full press release is available to download, or read about it in Lidar Magazine.