EUFS prepare for Virtual Competition in 2020
Posted on June 29, 2020 in Blog, Events
With the challenges brought on with the Coronavirus in 2020, we caught up with the Edinburgh University Formula Student (EUFS) team to see how they are preparing for the new 2020 Virtual Competition 22-26th July. Normally they would be preparing to leave for racing at Silverstone, but not this year.
Ignat Georgiev commented, "We are participating in the virtual competition which involves just the static events. We will be submitting video presentations of the three usual static events (design, real-world AI and business) plus a new one which asks us to showcase our simulation(s). Then on the usual days of the competition, we will have live Q&A session with the judges where they will be asking us questions based on the presentations."
Ignat added, "As for our work leading up to the competition, similar to everybody else, things are a little slower than usual. We are focusing on preparing for manufacturing in the next academic year and also finishing our software development. LiDAR is an integral part of our software stack."
We wish the EUFS team continued success as they won the automated vehicle category in 2018 and 2019. Mapix technologies are delighted to be Platinum sponsors of the team, supporting them with Velodyne LiDAR sensors and mentoring provided by our CTO Gert Riemersma.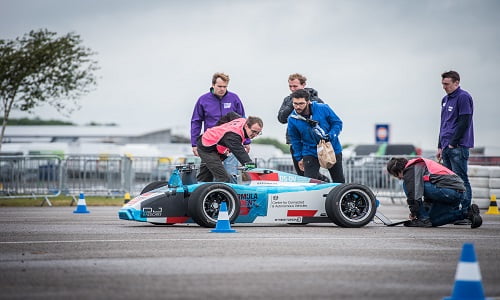 See more about the teams learning with LiDAR over the past three seasons. Click here
See the EUFS team winning for a second year. Click here
See more about Velodyne LiDAR scanners. Click here